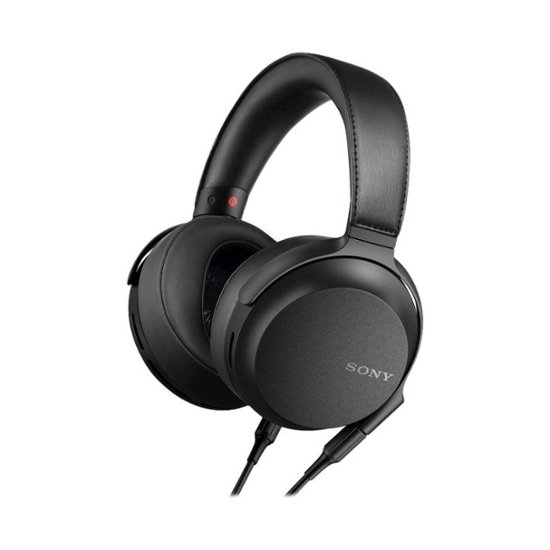 $599.98 Save $300 Was $899.98
Experience sound on a whole new level with these over-ear Sony headphones.
The wide frequency range and 70mm driver unit provides you with unbelievably smooth high-resolution audio, and the Fibonacci-patterned grill delivers clear ultra-high notes. These Sony headphones have an over-ear design and ergonomic ear pads for optimal comfort during long listening sessions.
Features
Enjoy premium sound with high-resolution audio
By digitally capturing music at a higher rate than CD, high-resolution audio allows you to get closer to the original studio recording and enjoy your music just as the artist intended.
2.76″ HD driver units deliver high-quality sound
Designed to cover most people's ears, these large-diameter HD driver units produce a plane wave front similar to that in a natural sound field and reproduce frequencies from 4Hz to 100kHz.
Fibonacci-patterned grill for smooth ultra highs
Made of stiff resin to achieve both thinness and strength and minimize sound damping from the grill at ultra-high frequencies.
Dynamic neodymium magnet
The MDR-Z7M2 headphones establish more driving power and a fast response to high-resolution signals, which results in sharp clarity of sound.
0.17″ balanced cable connection
Enjoy clear, precise and dynamic sound with the 0.17″ balanced-connection cable, which separates left and right sound signals and reduces noise from the output signal.
Aluminum-coated LCP diaphragm for more precision
Gives a consistent and precise sound across the entire frequency range.
Silver-coated oxygen-free copper cable
Minimizes resistance and signal transmission loss. The result is less sound degradation, finer detail, and smoother treble sounds.
Ergonomic ear pads
The combination of three-dimensionally sewn synthetic leather surfaces and a thick, low-repulsion urethane foam cushion provides an ergonomic shape designed to fit the unevenness of the head, applying even pressure across the area.
Aluminum alloy hanger and slider
Form the backbone of the headphones, offering lightweight and long-lasting durability over the years.
Included Free
2 Items
Amazon Music Unlimited 4 Month Free Trial (new subscribers only) [Digital]
SiriusXM – 4-Month Premier Streaming Subscription – No Car Required – (New Subscribers Only) [Digital]
Your trial subscription code will be delivered after checkout.
The code is case sensitive and must be entered exactly as displayed. Codes are one-time use only and are void after activation or expiration. This code cannot be replaced if lost or deleted. Valid for new SiriusXM subscribers only. Plan automatically renews after free promotional period. Credit card required. By going to siriusxm.com, you are entering a site hosted and operated by Sirius XM Radio Inc